1. For Bringing Girl Power Back With Destiny's Child
2. For Making Us Love Our Curves With "Bootylicious"
3. For Going Solo And Soaring With The B-Day Album 
4. For Christening The "Uh -Oh" Dance…On Oprah 
 5. For Giving Us Every Reason To Just Blurt Out: "To The Left To The Left" 
6. For Bringing Us Sasha Fierce
7. For Bringing Us Blue Ivy
8. For Reclaiming The Word Diva. It's "The Female Version Of A Hustla," Thanks.
9. For Making Epic Anthems Like "Survivor," "Independent Women"  and… 
10. For Caring
11. For Channeling Sexy Sharon Stone of Basic Instinct in "Ring The Alarm"
12. For Marrying Him, The Greatest Rapper Alive
13. For Having The BEST Weave, And For Asking Ladies Everywhere To "Pat" It
 14. For Making The Best Song About A Telephone With Lady Gaga. Twice.  
15. For Her Personal Styling In "Why Don't You Love Me" 
16. For Knowing What She Wants
17. For Stilettos, Every Day And In Every Way
18. For Her Dance Savvy
19. And Her Musical Sensibility
20. For Keeping It Gangsta
21. But Also Classy
22. For Being Pregnant, But NEVER Compromising Her Style
23. Or Her Love Of Dance
24. For Working Harder Than Any Other Diva In The Game
25. For Her Mouth Bling
26.  For Sharing Personal Letters To Her Fans, And Michelle Obama, With The Beyhive
27. For Giving Taylor Swift Her Moment
28. For Coordinating Fashion Moments Between She And Blue Ivy
29. For Coordinating Music Moments (The First Woman To Headline Glastonbury)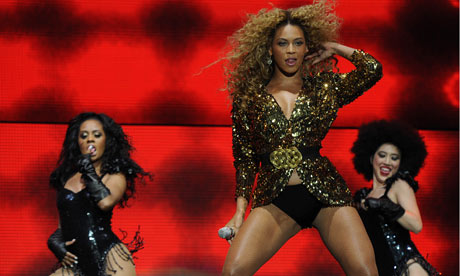 30. For Being Solange's Cutie Pie Big Sis
31. For Absolutely Crushing The Billboard Charts